JUSTICE FOR DAUNTE WRIGHT
At 7:30 last night, approximately three hundred protesters gathered at City Hall in Philadelphia in solidarity with protesters experiencing police brutality in Brooklyn Center, MN. They were shadowed by a heavy contingent of PPD bike officers, as well as a police helicopter that hovered over the march for nearly two hours as they wound their way through Center City and South Philly. The largely autonomous march came together less than 48 hours after police shot and killed 20-year old Daunte Wright during a routine traffic stop in the Minneapolis suburb of Brooklyn Center, and joined nearly a dozen other cities protesting state violence in Minnesota and across the country. The protest was entirely peaceful, with no property damage or arrests.

DISTRIBUTION AND COVERAGE
Fliers for the autonomous march appeared on Telegram late Monday night, and were quickly viewed more than a thousand times as they made their way to Twitter. Updates were spread widely via the Philadelphia RUST Network, which was again extremely effective at distributing high-quality information.
Mainstream media outlets from across the city sent reporters to cover the march, including NBC10, WHYY, The Philadelphia Inquirer, and others. NBC10's "SkyForce" helicopter shadowed much of the march from the air, which proved to be a distraction to protesters on the ground and a disruption to local neighborhoods. Media helicopters often operate in the same space as police helicopters and can relay high-quality overhead video, as seen below. OTG reporters seemed to be overall conscientious of protesters, and reminders to avoid filming or photographing identifying features were sparse.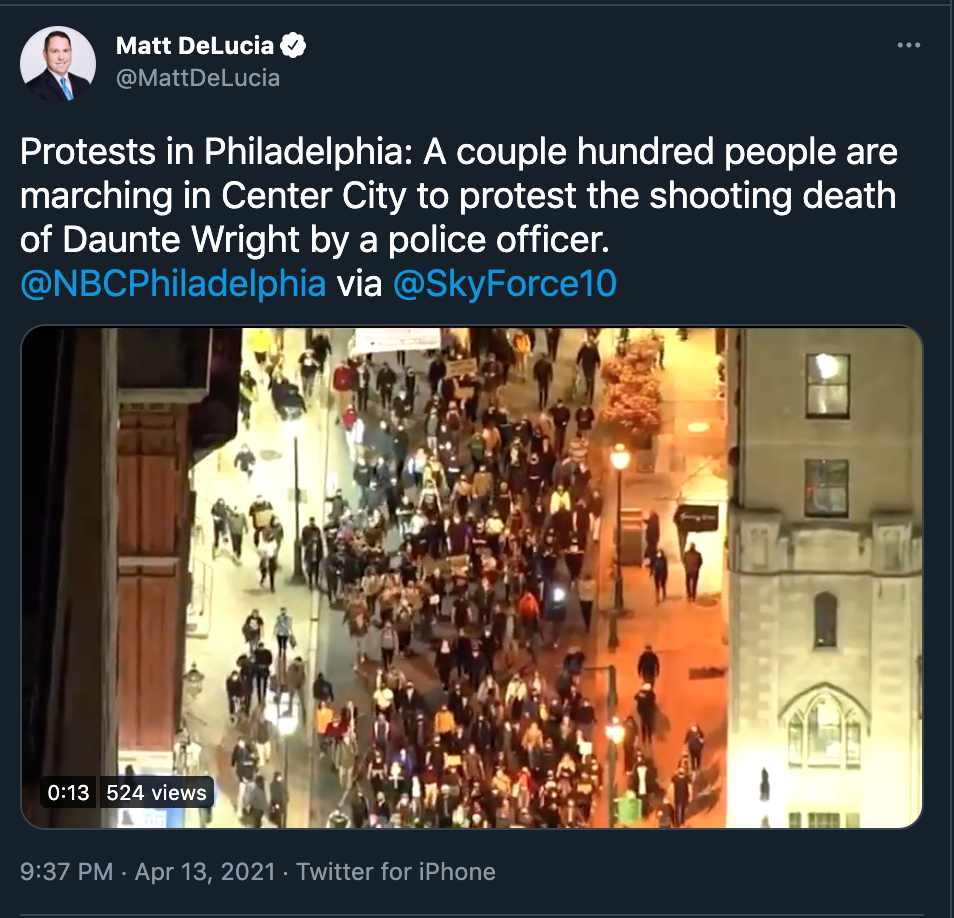 https://twitter.com/MattDeLucia/status/1382146051285602306

POLICE RESPONSE
Philadelphia Police were aware of the march ahead of time and engaged in preemptive staging across the city, especially in Center City and the 52nd Street area of West Philadelphia. Officers were staged on street corners in detachments of 3-5 with cruisers patrolling the area. As protesters gathered at Dilworth Park, bike officers rallied at the 12th and Arch Convention Center underpass and staged on the west side of City Hall. PPD helicopter ref: N297PD, a 2014 Eurocopter AS.350-B2, was deployed from Northeast Philadelphia Airport and shadowed the protest for approximately two hours, which seems to be its average flight time.
A detachment of bike officers totaling approximately 40 shadowed the march and attempted to head it off at multiple intersections. Bike movements seemed best suited to the open spaces around City Hall, where they could gather in groups and guide the march down the South avenue of Broad Street. Officers had significant trouble keeping pace with the group as they weaved through tight one-way streets, where they routinely found themselves trailing protesters. Protective gear and utility belts seemed to make it difficult for them to mount and dismount quickly, preventing officers from walking their bikes in the same way protesters do in tight spaces.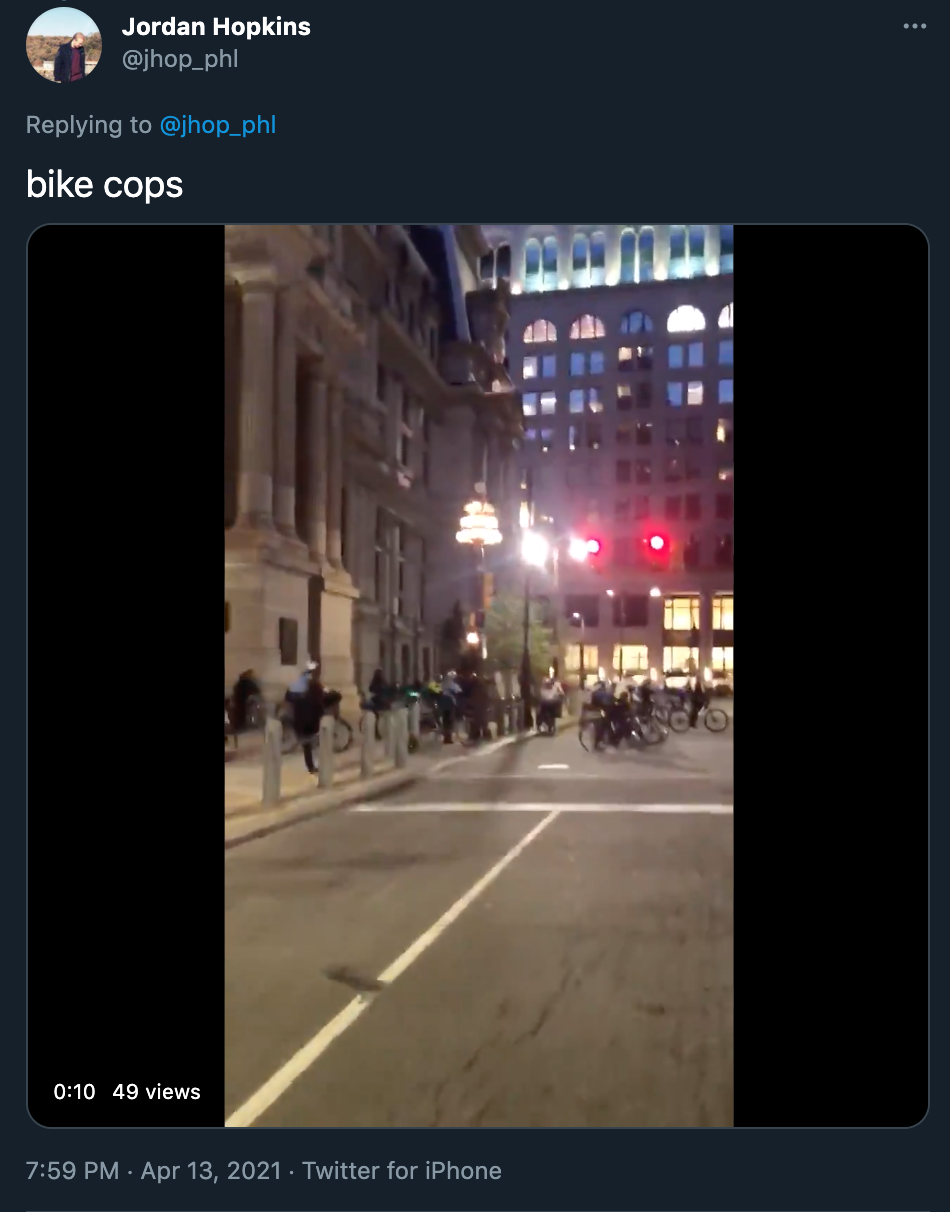 https://twitter.com/jhop_phl/status/1382121365755592704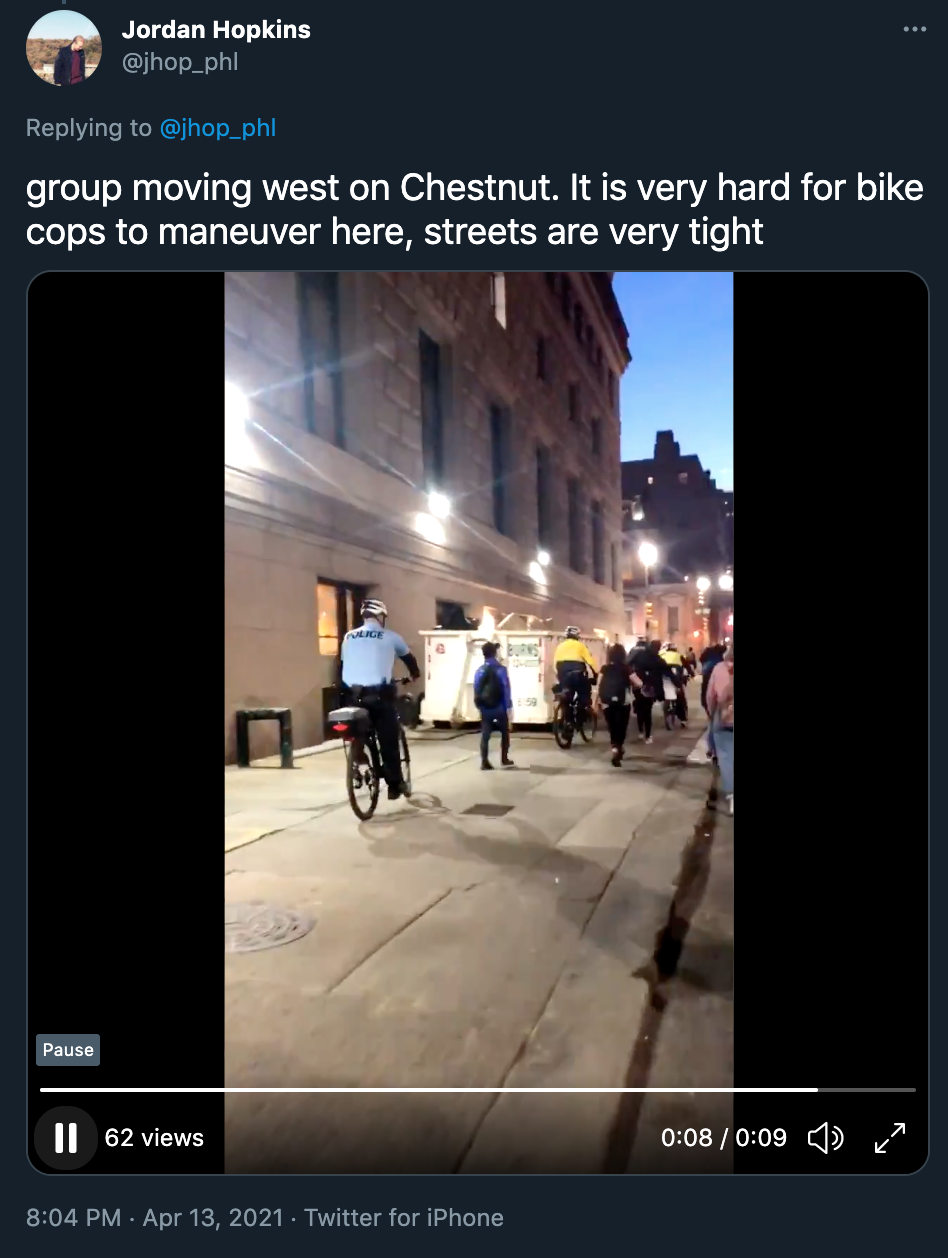 https://twitter.com/jhop_phl/status/1382122508086882307?s=20\

ACTION
The march gathered at Dilworth Park and left promptly at 7:30, moving quickly towards the Art Museum and redirecting down JFK Boulevard. Police seemed unprepared for the speed and route of the march, which wound through Center City's tight one-way streets and often crossed paths with the area's outdoor dining areas. Several protesters tapped on the plastic partitions of the outdoor dining areas and spread out over the sidewalks, briefly disrupting dining services while they moved past. While regrouping on the corner of 13th and Locust, protesters had a brief standoff with bike police who blocked the group from going north. Protesters on bikes quickly moved forward to create a barricade between speakers and police. The march pushed police back north after regrouping and turned east, towards Old City.

As the march moved to Old City, demonstrators called on luxury apartment residents to come out and show their support for the movement - and they did, coming downstairs to join the protest to the cheers of the crowd.
https://twitter.com/JPeters2100/status/1382146782893858819
After traveling through South Philadelphia, the march returned to City Hall at approximately 10:30pm, where demonstrators dispersed peacefully and reminded others to travel in groups and return home safely. The action ended with no property damage, no injuries, and no arrests.
https://twitter.com/JPeters2100/status/1382157202853625861?s=20