Jim Worthington Goes to Washington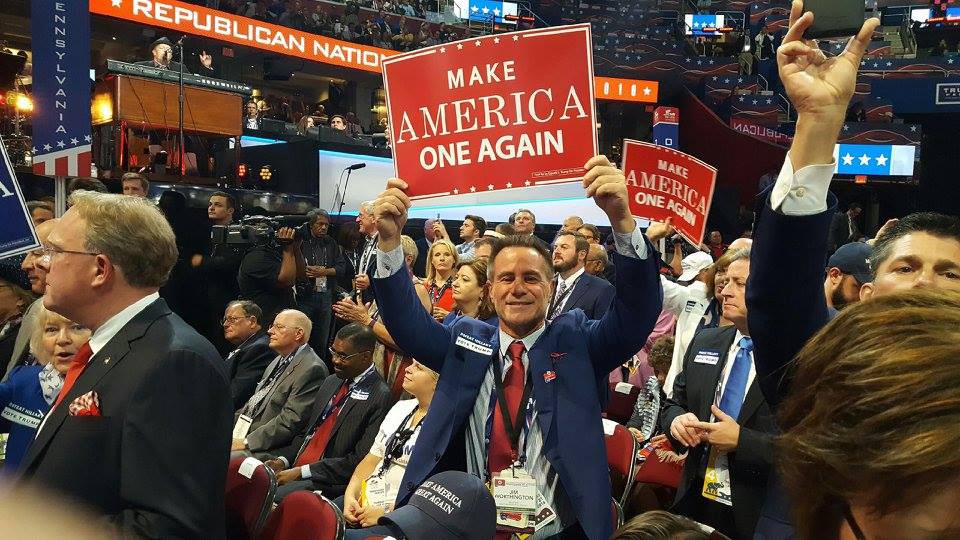 On a cold January night in Washington, DC, Bucks County business owner and Trump mega-donor Jim Worthington stood outside the Conrad Hotel and fired up a livestream for his thousands of Facebook friends. The livestream currently has over 10,000 views, and hundreds of comments. It's one of Jim's only still-available posts that even mentions the January 6 "Million MAGA March", or the jam-packed bus trip to the event that Jim had planned for supporters of his PAC, People4Trump. In the livestream, Jim exudes his trademarked charismatic energy. Spinning in circles to give us the full view, he introduces us to a motley cast of characters in the crowd.
"Hey, here's two guys from Pennsylvania!" Jim yells, bringing the camera to bear on two men standing behind him. One is Matthew Hurni, a close friend of Jim's. The other is Jim's son, James William Worthington, a violent criminal on probation for assaulting a man in a bar and biting off his ear. James gives a sheepish smile to the camera - he's wearing a trucker cap that reads "TRUMP TRAIN". Diving into the crowd of Trump supporters in the street, Jim quickly introduces us to a man from Arkansas who believes that vote totals in Philadelphia were altered, a visibly inebriated man from New York who proudly exclaims "Bleep Cuomo!", and a QAnon follower from Wayne, Pennsylvania wearing a Three Percenters trucker cap. As he wanders into the middle of the road to get a better look at the White House for his livestream, he talks about how excited he is to be in DC and how many people would be joining him the next morning, shipped in from Bucks County on buses rented by People4Trump. He spins around; briefly, for a moment, the illuminated dome of the US Capitol building looms over the DC skyline in the darkness. The livestream ends.
The next day, a crowd of thousands watched President Donald Trump give his last public speech in office on the White House Ellipse. Jim Worthington was there, in the front row, his son by his side.
Less than an hour later, the rally Jim Worthington helped plan and publicize turned into a riot, resulting in six deaths and hundreds of injuries. While thousands of Trump supporters stormed the US Capitol with the goal of preventing the lawful election of President-Elect Joe Biden, Jim was busy putting as much distance between himself and the oncoming crisis as possible. Jim says his People4Trump buses left after the President's speech and didn't learn of the day's events until they returned to Bucks County, despite a flier circulated widely online claiming that they would be traveling directly from the President's speech to the US Capitol Building, or the very same flier claiming that the buses wouldn't return to Newtown until approximately 9pm.
The Million MAGA March and its consequences are far from Worthington's first foray into the political world. In fact, Worthington has become one of the most influential Republican donors in Pennsylvania, supporting multiple candidates up and down the ballot and developing close ties with both President Trump and Republican state Representative Brian Fitzpatrick (PA-01). Worthington's Newtown Athletic Club, a dystopian four-acre health retreat for Bucks County's super-rich, has served as a launching pad for the Horsham native's political career, and vice versa. After spending over $30,000 on the most organized Delegate campaign in county history, Worthington won a delegate's seat at the Republican National Convention in 2016, where he voted for Donald Trump. He held several rallies for the Trump campaign that year, including one at the NAC that Jim claims numbered over 5,000. Following Trump's election, he parlayed his 15 minutes of fame into a role on Trump's President's Council on Sports, Fitness & Nutrition, where he promptly threw tens of thousands of dollars at bills that would increase NAC's revenue and drive competitors out of business. When the COVID-19 pandemic hit, not only did Worthington straight-up refuse to close the NAC, he used his influence at the International Health, Racquet & Sportsclub Association (IHRSA) to successfully lobby for fitness gyms like Worthington's to be included in Phase 1 reopenings despite clear and obvious health risks. As of the publishing of this article, Bucks County has weathered 41,319 COVID cases and 1,056 deaths, good for fourth-highest in the state. Jim Worthington reportedly does not enforce mask-wearing within the 250,000 square foot NAC compound.
So when Jim Worthington's People4Trump PAC hired three buses to take nearly 200 people to the President's "Save America" speech on January 6, it served as an escalation of a pattern that had been building since before the 2016 election. Jim Worthington is never someone to do something small if it could be done big, and his political advocacy followed the same path. Whether driven primarily by his financial connections to Donald Trump or simply his trademarked "all-or-nothing" personality, Jim's path into radicalization over the course of the Trump presidency was rapid and concerning. By the days leading up to the Capitol insurrection, a once-politically apathetic Worthington was spreading baseless conspiracy theories concerning the 2020 election and taking smiling photographs with QAnon demigod General Mike Flynn, making veiled references to "the swamp" being "breeched" [sic] in Facebook photos of him and his son at dinner in DC the night before the insurrection. In a now-deleted post less than three days after the election, Worthington states:
"There is no doubt in my mind that the results reported in this election are inaccurate and corrupted and need to be challenged at every level legally or otherwise. With that I am here to tell you that our fight to save America and reelect President Trump continues and I am ready to take the oncoming bullets."
Jim Worthington's wrongdoings lie at the intersection of a half-dozen radicalization pipelines, a perfect storm of conditions capable of sinking even Bucks County's most influential and charming Trump supporter. As a business owner, Jim is part of the largest demographic to have attended the "Save America'' rally, just ahead of realtors. His business interest in the reelection of Donald Trump and his continued influence on the Fitness Council led him down the path of COVID denialism and election conspiracies in order to protect his financial legacy - and his ego. Undoubtedly this pipeline is what led Worthington and his son to the harder stuff, like QAnon. His online presence, part entrepreneurial family man and part digital warrior, echoed President Trump's calls to arms with increasing fervor. Willing to die for the cause, Jim Worthington evokes the imagery of bullets and warfare to his thousands of friends and supporters, a network of stochastic fearmongering that Worthington neither understood nor attempted to control. His extensive network of connection - with the President, with elected Pennsylvania officials, with the thousands of employees and customers of the NAC - formed a web of misinformation that ensnared everyone around him. Like many of the Capitol rioters that day, Jim Worthington was the dog who caught the mailman. Every grift runs out of rope eventually, and Jim failed to pull the cord on this one in time - and now he claims that he's been visited at home by the FBI. Life certainly comes at you fast.
 Boosted by incendiary rhetoric, egged on by the President, and financially incentivized to keep Donald Trump in power, Jim Worthington finally overran himself. Had he accepted the lawfully certified results of the election and not decided to shuttle hundreds of people to an event that all evidence indicated would likely become a riot, he could have returned to his life of luxury in his personal kingdom at the NAC like nothing had ever happened. His role in the Trump campaign would fade into obscurity, shoveled into the never-ceasing coal fire of the internet to be lost forever. Instead, his actions helped contribute to a riot that resulted in the deaths of 6 people, and that will be stamped into history forever. Only time will tell what the future holds for Jim Worthington and the NAC, or if he will be held accountable in any way, or what his next move might be if he isn't. But if there's one thing to learn about Jim Worthington from this story, it's that he's not the type of guy to stand still for long.