Danielle Outlaw Brings Portland Tactics to Philly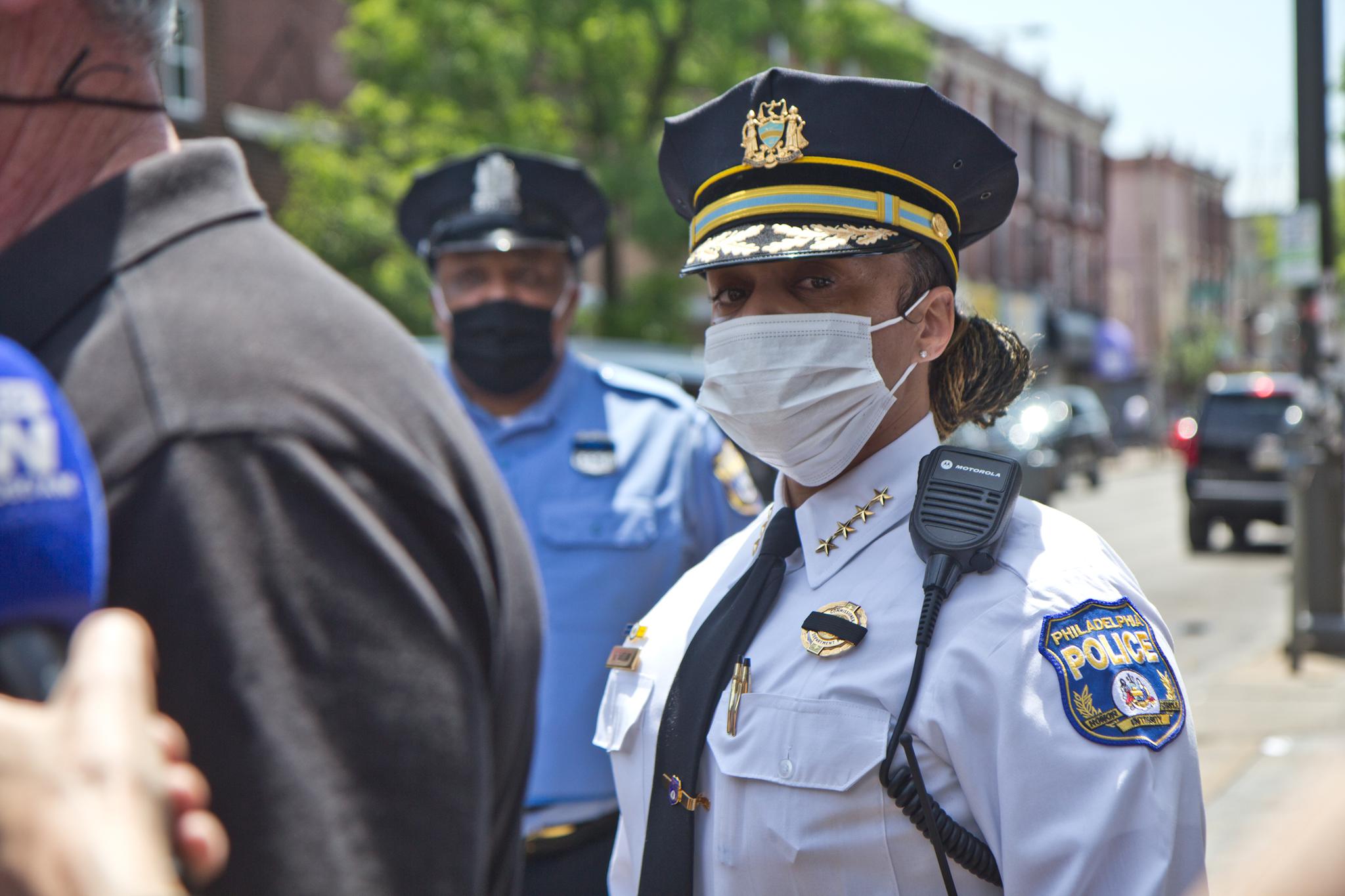 When former Portland Police Bureau chief Danielle Outlaw was announced as Philadelphia's new police commissioner in December of 2019, hopes were high to say the least. Expectations were high, too - Outlaw joined the department on the eve of an unprecedented movement for police reform and accountability, just months after a massive sexual harassment scandal resulted in the resignation of commissioner Richard Ross, Jr. In her introduction to the press at city hall on Dec 31, Mayor Jim Kenney made it clear that Outlaw's hiring heralded a reckoning for PPD and their extensive history of racism.
"Make no mistake," Kenney said. "While I have tremendous respect for our officers, the Philadelphia Police Department needs reform. I am appointing Danielle Outlaw because I believe she has the conviction, courage, and compassion to bring reform to our department...with our support, she will tackle a host of difficult issues, from racism and gender discrimination to hard instances of sexual assault on fellow officers. Chief Outlaw will implement reforms with urgency so that racial, ethnic, and gender discrimination will not be tolerated."
So how did we get...here? Granted, the first six months of 2020 were an absurdist dystopia on a scale none of us could have predicted in the halcyon days of December 2019. But given Mayor Kenney's high praise in December, it would seem inconceivable to some that by June, he and Commissioner Outlaw would be personally apologizing for ordering Philadelphia Police to fire tear gas at peaceful protesters on two separate occasions. It might seem even more inconceivable that at the same time, gangs of violent vigilantes would be roaming the streets of Fishtown and South Philly with baseball bats and golf clubs, beating up journalists with the explicit support of members of PPD, or that uniformed members of the Proud Boys would be hanging out at the bar at a Mike Pence rally in the Fraternal Order of Police building. To this point reform has been slow to come, and PPD only seems to have slid further into its association with racism, sexism, and right-wing violence. This is not the Danielle Outlaw we were promised. It is, however, who Danielle Outlaw has always been.
When Danielle Outlaw was tapped by newly-elected mayor Ted Wheeler to lead the Portland Police Bureau in 2017, he cited her talents as a reformer from her 20 years of experience in the Oakland Police Department. Outlaw stood out among a particularly corrupt department and rose quickly through the ranks into a position at Internal Affairs before becoming the city's first black female deputy chief. Outlaw crafted a reputation as a "clean cop" who helped reform Oakland's command structure. She was a lieutenant with IA in 2011 when she handled officer complaints from a brutal crackdown on encamped Occupy protesters. It was one of Outlaw's first experiences with protest response and crowd control, and it would end up shaping her response to similar situations across her career.
"We were still of the mindset of 'just as long as no one gets hurt, we're good,'" she told Portland's Willamette Week in 2018. "I walked away from that saying, 'OK, there has to be balance.' The merchants also wanted to feel safe. There were a lot of windows that had been busted out."
Big-city protest action is not unfamiliar territory for Outlaw. She oversaw her fair share in Oakland, and in the same WW interview on her arrival in Portland she intimated that "one of the reasons she applied for the job was because she knew the city had a reputation for large, tense public protests". Despite Portland's reputation as a hipster paradise, in reality the small liberal city is surrounded by some of the most conservative rural areas in the country, leading to repeated street clashes between antifascists and an ever-shifting collection of right-wing gangs and "free speech" groups. Demonstrations are met with counter-demonstrations, with both groups numbering in the hundreds. Outlaw came onto the scene in Portland in an even more tense situation than usual - only months before her arrival, right-wing activist Jeremy Christian stabbed two people to death on a Portland MAX train. The murders kicked off another wave of protests, starting with an incendiary-timed "alt-right" protest that resulted in PPB attacking counter-demonstrators with flash bangs and rubber bullets, arresting 14. These incidents took place before Outlaw took office, but they indicate the environment that Outlaw was inheriting. Portland was experiencing some of the most intense street violence in the country around its protests, and Mayor Wheeler tapped Danielle Outlaw as the person who he thought could solve the problem.
The reality, however, was quite different. The spring and summer of Danielle Outlaw's first year as Portland's chief of police featured some of the most violent police responses to protests in the city's history. The Portland Police Bureau headed by Outlaw repeatedly used disproportionate force against left-wing protesters, reportedly viewing right-wing demonstrators as "more mainstream". PPB used tear gas, rubber bullets, and batons against demonstrators. Less than a year later, police engaged counter-protesters at a Patriot Prayer rally, sending two people to the hospital. Outlaw said that police response was proportional to the protester's actions, who she claimed were throwing rocks at police. Journalists reporting at the scene, as well as video provided by PPB itself, do not support this claim. Still, Outlaw was indignant at a press conference where she addressed the controversy.
"Where's the accountability for the people who come with the intent to harm, destroy and to tear things up and to actually come and physically fight other people?" she asked. "Then we are called to break it up. And if one side gets the short end of the stick for whatever reason, then we're accused of not protecting one side or the other."
However, the truth turned out to be much more complicated. Following the brutal August 4 riot, high-ranking members of Outlaw's PPB were revealed to have sent hundreds of texts to right-wing activist Joey Gibson, leader of free speech group "Patriot Prayer". The texts included explicit instructions on how and where to move to avoid police and confront antifascist protesters. Outlaw was not revealed to have directly communicated with PP members, but evidence suggests that she was at least aware of the protective relationship between the two groups. It was also later revealed that PPB had discovered a group of Patriot Prayer supporters posted up on the roof of a nearby parking garage with a cache of rifles, though the firearms were legal and the group was not detained. This information was not made public by PPB until nearly two months later, with Mayor Wheeler not even finding out about the incident until mid-October. PPB also showed a light touch in arresting right-wing activists under Outlaw - while they routinely arrested left-wing protesters and even retained photographs of their IDs, PPB declined to provide more evidence to prosecutors in the case of Proud Boy Tusitala Toese, who was wanted for multiple assaults in the Portland area at the time of his attendance at the August 4 rally.
The intermingling of the PPB with right-wing groups like Patriot Prayer and the Proud Boys made Outlaw's time in Portland an objective failure. Ted Wheeler brought Outlaw in to heal the racial divide between the community and Portland's 80% white police force. She was specifically chosen for this appointment because of her track record as a reformer. Instead, she oversaw a department which regularly and brazenly provided assistance to hate groups and violent street gangs while deploying excessive force on left-wing protesters. Her reforms were few and far between, save a highly-publicized ban on face masks in public - and even that reform never made it out of the Oregon House. The truth, at least as far as it can be discerned from her careers in Oakland and Portland, seems to be that Danielle Outlaw's reputation as a reformer is at the least highly overemphasized, and that her policies and tactics routinely align with those of right-wing hate groups and against left-wing organization of any kind.
Outlaw's only been on the job in Philly for six months, but it's hard not to draw parallels between her current work and her past at PPB. The first night of the George Floyd protests in Philly ended in widespread looting across the city, and police used tear gas and pepper balls against demonstrators. On May 31, a combination of lack of planning and deep-seated racism and resentment exploded into indiscriminate violence on West Philadelphia's 52nd street. Random passerby were struck by rubber bullets, and PPD covered a 13-square block radius in so much tear gas it was visible on the horizon while I sat in traffic in the shadow of the Link on I-95. The entire incident took place less than ten blocks from the MOVE House, where in 1985 PPD dropped a bomb from a helicopter onto the headquarters of a Black Liberation group, killing 11 and starting a fire that destroyed more than 60 homes.
 A day after exhibiting unspeakable brutality on 52nd street, the PPD largely drowned out that spectacle by doing more violence to protesters. a large group of peaceful demonstrators marched down the Ben Franklin Parkway exit of I-676 on June 1, where they were met under an overpass by members of Philadelphia SWAT. They fired tear gas into the crowd indiscriminately, arresting dozens of protesters. It later came out that tear gas was used explicitly on the orders of Outlaw, Mayor Kenney, and Managing Director Brian Abernathy, a decision which drew widespread condemnation. Outlaw originally defended the attack, claiming that protesters surrounded a State Police cruiser and threw rocks at it. Outlaw's statement reinforced the city's version of events:
"Today's deployment of tear gas was a means to safely diffuse a volatile and dangerous situation, and restore order, when it became increasingly clear that other measures were ineffective in accomplishing that necessary objective," Outlaw said. "We will continue to evaluate the propriety of all applications of force, and make determinations as the circumstances of each unique situation dictate."
Video evidence later disproved Outlaw's claims, and the officer involved was fired. Still, PPD made more than 50 arrests that day and injured hundreds of others. For those familiar with Outlaw's history, it's difficult to not see the influence of her experiences in Portland affecting the reaction to peaceful protests in Philadelphia.
The incidents involving violent vigilantes in Fishtown and South Philly this June are also concerning. By themselves, the attack of a WHYY journalist in Fishtown by vigilantes while PPD refused to engage, pro-police rallies in Marconi Plaza, or the appearance of a meager Philadelphia chapter of the Proud Boys at a Trump rally don't engender much critical concern. Reactionary outbursts have been a fixture of the George Floyd protests all across the country, and as far as right-wing violence goes Philadelphia has remained relatively tame. The concern, however, is Outlaw's history with these groups. Right-wing groups will latch on to police support as a means to protect themselves from political reprisal. This was particularly explicit among the Portland Police Bureau, which has a history of association with right-wing groups. But Philadelphia has a similar history of police racism and infiltration, and Outlaw does not seem particularly keen on divesting the department from that reputation based on the short time she's been in office.
Philadelphia is not Portland. Portland is one of the most active protest cities in the country, with a deep red/blue divide stretching back decades and a high population of activists on both sides. Outlaw was only chief for two years, and so it's unclear how things would have played out there if she had stayed long-term. But the results of her policing are hard to ignore. Parts of Portland have become a battleground as activists fight against the militarized police tactics that Outlaw played a significant role in normalizing and the street gangs her police enabled. Not all of this can be attributed to Outlaw, but her ideals run from Occupy Oakland through the Portland Police Bureau right through the I-676 protest incident and the PPD response to vigilante violence. As long as her departments cultivate an environment where police are actively encouraged to protect one political group from retribution and persecute another, reform will never be a part of the picture for Danielle Outlaw. And regardless of how things pan out in the end, her tenure certainly has not been what Kenney and the city government promised all those months ago.