City Postpones Removal of James Talib-Dean Homeless Encampment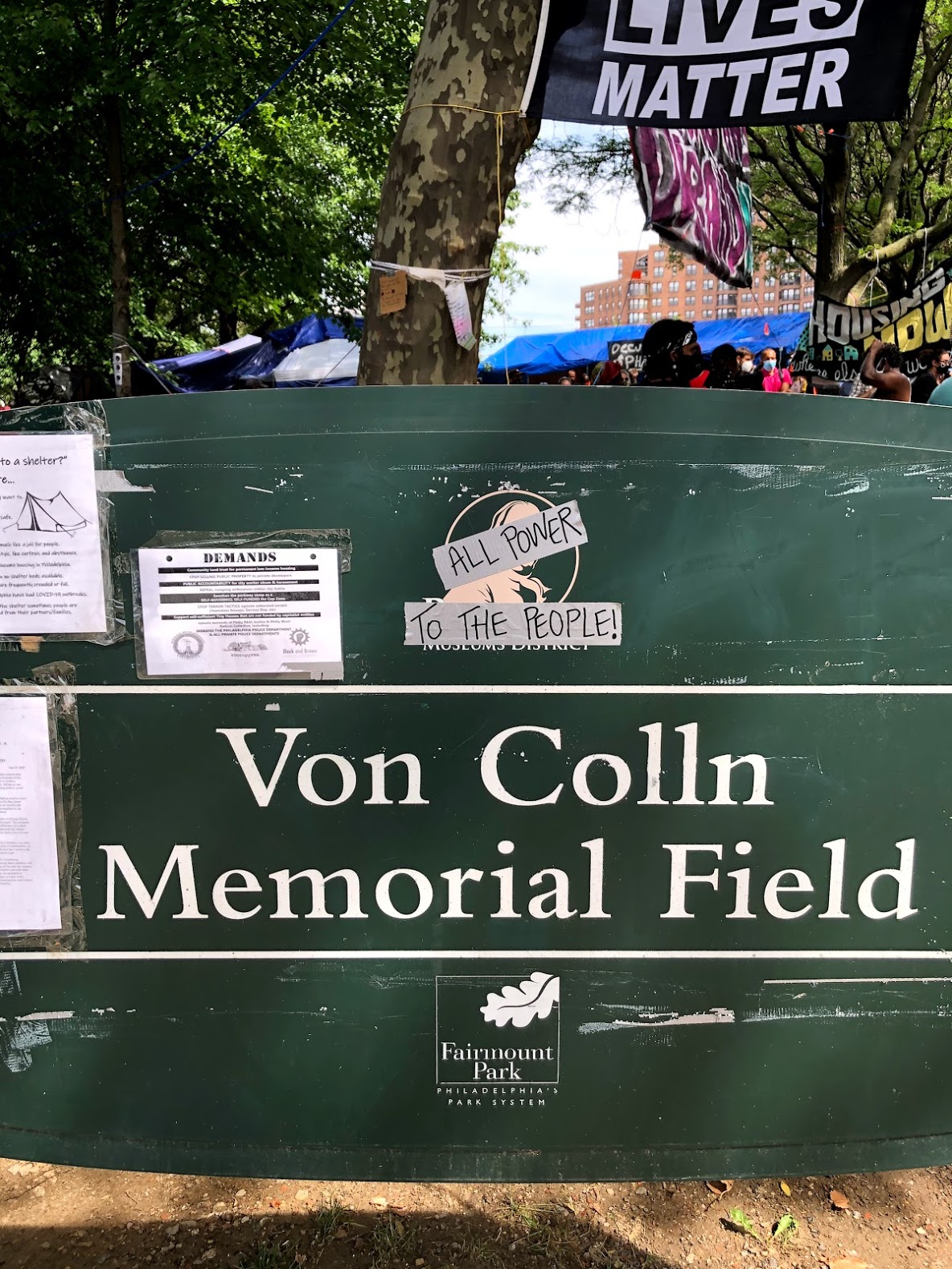 In a press release today, Philadelphia Mayor Jim Kenney announced that the city has decided to postpone the removal of a homeless encampment located at Van Colln Memorial Park that was scheduled for Friday, July 17. The decision follows a month-long game of chicken between the residents of the encampment, the Mayor's office, and the Philadelphia Housing Association that saw the city threaten to remove the encampment by force in the early hours of Friday morning. Now, however, the removal has been postponed, with no immediate date planned for action against the camp.
"We're postponing the closure because conversations with the group are ongoing and I plan to meet with several camp representatives next week," Mayor Kenney said in a press release earlier today. "A mutual resolution has always been our preferred outcome. We appreciate their willingness to engage in productive dialogue, and I'm hopeful that we will reach a peaceful resolution soon."
The encampment, referred to by organizers as James Talib-Dean Camp to memorialize an unhoused resident who recently passed away, has been occupying space along the Ben Franklin Parkway since it was formed in early June. The once-small settlement has since grown to over 200 tents, prompting both support and condemnation in varying amounts from members of the community. The city made the announcement on June 10 that they intended to remove the camp, claiming that "conditions pose a hazard to the life, health, safety, and welfare of the individuals in the tents, the nearby residents, and the public at large". The announcement was met by pushback from residents of the camp, as well as local activists, who claimed that disbanding the camp would cause irreparable damage to the unhoused population in the camp, including putting them at a greater risk of COVID-19 infection. The JTD Camp, which provides free COVID-19 testing for residents every Monday, has only seen one confirmed case this month. Meanwhile, shelters across Philadelphia are recording much higher positive test result numbers than the average population. This discrepancy can be attributed to a number of factors, but organizers claim that removing the infrastructure that has allowed unhoused residents access to tests and masks, as well as a stable location where they can safely socially distance, would only worsen conditions for Philadelphia's most vulnerable populations. At a press conference at the corner of Ben Franklin Parkway and 22nd Street on Monday, organizers and residents once again made their demands clear in response to the city's ultimatum - they want housing, and they're not going anywhere until they get it. Organizers and residents were joined on Monday by hundreds of activists, who stood in solidarity with JTD and asserted their refusal to vacate the area.
The decision to postpone the removal of the JTD Camp, as well Camp Teddy, a similar encampment located in an unoccupied lot across from PHA Headquarters in Strawberry Mansion, came less than 24 hours before the action was due to occur. The city has not announced a new date for the planned eviction, but Mayor Kenney claimed in a COVID-19 debrief later this afternoon that he would be meeting personally with representatives from both camps to continue to work towards a solution. However, it's becoming clear that Philadelphia's chronic homelessness problems are finally coming to a head. Organizers at JTD and Camp Teddy have voiced serious disapproval for the Philadelphia Housing Authority, which they claim has failed to provide adequate housing for unhoused residents while splurging $45 million on a new headquarters. The largest landlord in the state of Pennsylvania, PHA also drew community ire in February when they sold off two housing complexes in Philadelphia's rapidly gentrifying University City neighborhood to private owners, while more than 40,000 city residents make use of the city's strained shelter infrastructure. With a global pandemic looming, as well as one of the hottest summers on record already, its clear that conditions for the city's homeless population has reached a breaking point, and now unhoused residents are looking to make their own solutions in a time when the impossible seems possible more and more every day.
"Black Lives Matter changed the world," one resident said at the press conference on Monday. "We matter too, we just want the city to recognize that."